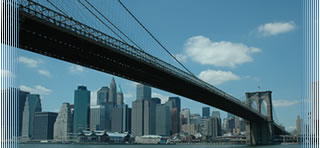 Thank you, All
HLT-NAACL 2006 was a great success. We had 685 participants from all over the world. Many thanks to all the chairs, organizers, student volunteers, and, most of all, all the participants .
See you in Rochester in 2007!!!
Photo
Here are some photos from the conference . If you have more photos, please send it to s e k i n e AT cs DOT nyu DOT edu (delete spaces and change the symbols).

---
Human Language Technology conference - North American chapter of the Association for Computational Linguistics annual meeting (HLT-NAACL) 2006 will be held in New York City, hosted by New York University. The venue is New York Marriott at the Brooklyn Bridge . It is located just three subway stops from Downtown and ten stops from Midtown, the centers of the Big Apple.

---
See you all at HLT-NAACL 2006!!
Before You Come:
Schedule:

May 26, 2006

Late Registration


deadline

June 4, 2006

Tutorial

June 5-7, 2006

Main Conference

June 8-9, 2006

Workshops
Downloads:
CONFERENCE POSTER
[ PDF ] [ BMP ]
Call For Papers [ PDF ]
Weather: