Accommodation
The conference offers two types of lodging:
Hotel

New York Marriott at the Brooklyn http://marriott.com/property/propertypage/NYCBK

All HLT-NAACL 2006 events (tutorials, doctoral consortium, main conference and workshops), except for the reception and banquet, will be held at the New York Marriott at the Brooklyn Bridge . Located within Renaissance Plaza, and adjacent to the Metro Tech Center and surrounding universities, the New York Marriott at the Brooklyn Bridge is 10 minutes from Manhattan and the Financial District, with 9 major subway lines all within one block.
Reservations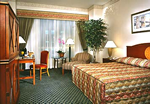 The conference organizers have negotiated a highly discounted rate with the Marriott at the Brooklyn Bridge, and we are very pleased to offer rooms for $179/night (excluding tax). Reservations may be made over the Internet or by calling a toll-free number.

1. Reservations over the internet

Reservations can be made through the New York Marriott at the Brooklyn Bridge reservations page . In the field labelled "GROUP CODE" be sure to enter NPCNPCA . If you make a reservation without this code, you will be charged the normal rate. The conference is not responsible for this mistake.

*** NOTICE: ***
There is a shortage of available hotel rooms. We are trying to acquire any rooms as they become available so you will be able to pay the group rate rather than a higher rate. If this situation has or will effect your stay in New York, please e-mail acl@aclweb.org to be put on a waiting list for openings as they become available. Please put "Room Shortage" in the subject line and include the following information in the body of the e-mail:
your name,
email address,
whether or not you have already made a reservation,
the dates of your existing reservation if you have one,
and the dates for which you wish to make a reservation.

***********

2. Reservations by toll-free number

Dial (888)-436-3759 to be connected with the reservations department. Let the reservations agent assisting you know that you would like to make a reservation for a group block, and give them the group name NAACL 2006 .

There are a limited number of rooms, so please book early. The reservation deadline for this rate is May 12, 2006. If rooms are needed after this date, they will be handled on a "first come, first serve" basis, based upon the hotel's availability. So please make your reservations before the date indicated above.
NYU Dormitory

NYU dormitory (Brittany Hall) at Broadway in Manhattan
http://www.nyu.edu/housing/residence.halls/brittany.hall/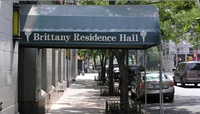 One hundred (100) rooms for 200 people have been made available in NYU's Brittany Hall Dormitory . Brittany Hall is not air-conditioned. All guests are housed in unadorned dormitory bedrooms in suites. Each suite typically has two or three bedrooms. Each bedroom is furnished with a bed, desk, dresser and closet/wardrobe for each guest. All rooms must be shared by two occupants of the same gender. The price of these rooms is $50 per night per occupant (no tax). It is not possible to pay double to have a room to oneself. Roommates will be assigned by the dormitory manager (the conference organizers have no control over dormitory room assignments). Each individual suite has a bathroom shared by all occupants of the suite. There are no kitchens. NYU Summer Housing does not provide telephone, television, or computer service in individual bedrooms or suites. Brittany Hall has a television lounge and two computers in the lobby that allow access to the internet. (Note that there are several cafes and restaurants around the dormitory where you can access the internet - for free or for a small charge) When guests check-in at the reception desk, they will receive their room key, a temporary identification card allowing them access to the residence hall and a linen package (rooms are not made up for guests). The linen package contains a sheet, blanket, pillow, pillow case, and small towel. Upon departure, the linen should be brought to the reception desk. There is a laundry room in the building that guests may use if they would like to wash their linen during their stay. NYU does not provide toiletries. Rooms are cleaned prior to occupancy and after departure, but no cleaning service is provided during the guests' occupancy of the bedroom and/or suite. If you have any problems or concerns with your accommodations, you should speak to the Reception Desk staff or the Residence Hall Operations Manager.


Brittany Hall
55 East 10th street
New York, NY 10003


Access to the conference site:
-Two blocks from the 8th St. & Broadway station (N, R)
-Three blocks from the Astor Place station (4, 5)
-Four blocks from Union Square station (N, R, 4, 5)
Reservations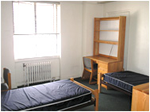 To make a reservation in Brittany Hall, please use this
registration form
. You must register and make your payment by April 26. You will receive an e-mailed confirmation that your registration request was sent for processing. At the same time, you have to make your payment by sending a check or sending fax about credit card information to New York University. A second e-mail will be sent as a receipt to confirm that your reservation request has been completed.