Conference Venue

89/8 Chang Klan Road, A. Muang,
Chiang Mai 50100 Thailand
Tel: +66 5325 3888
Fax: +66 5325 3800

http://www.shangri-la.com
Online Reservation
Layout of the conference venue:
Level 1 - Main conference, registration, exhibition, demos, and posters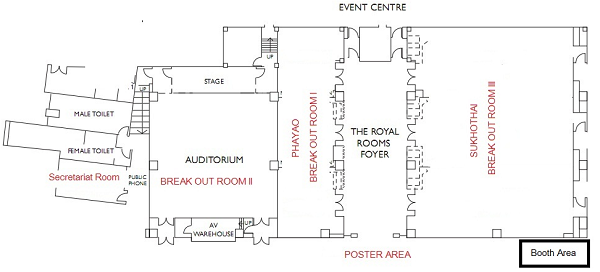 Level 2 - Main conference, Invited Talks, and Open/Closing Ceremony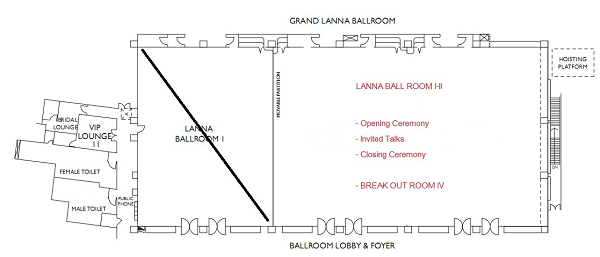 Overview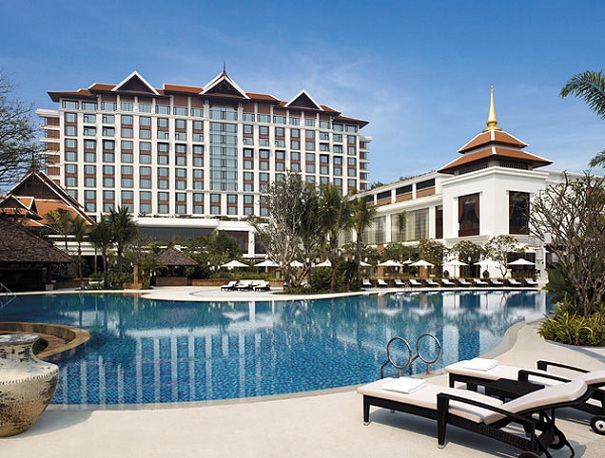 Shangri-La Hotel, Chiang Mai is a "City Resort" that is perfectly placed to cater to the needs of guests visiting Chiangmai on business or for leisure. This Chiang Mai luxury hotel is conveniently located within the bustling centre of this culturally rich city.
At the Shangri-La Hotel, Chiang Mai, you will find many opportunities for fitness, rejuvenation and relaxation. In addition to a free-form outdoor pool, tennis courts and a fully equipped Fitness Centre with classes, CHI, The Spa at Shangri-La offers large private spa suites, with a diverse menu of treatments based on traditional Asian healing principles.
Shangri-La Hotel, Chiang Mai offers a broad range of services, facilities and amenities while still providing personalised service and Shangri-La's internationally renowned hospitality. Horizon Club rooms offer an enhanced level of service, comfort, and convenience for busy travellers, including late check-out and a personal concierge. The exclusive Horizon Club Floors, including the Lounge, are located on the top three floors of the hotel.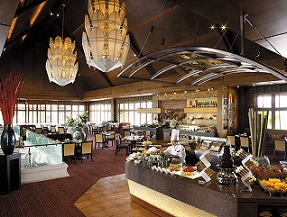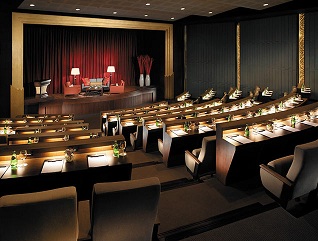 Meeting planners and events managers have unlimited possibilities with more than 3,500 square metres of function space serviced by a dedicated team of specialist staff on hand at all times. The Grand Lanna Ballroom is Chiang Mai's largest at 1,515 square metres and can easily accommodate a banquet or event for up to 1,800 guests. Shangri-La's Event Centre and The Royal Rooms include The Sukothai Room (425 square metres) and The Phayao Room (155 square metres). Chiang Mai's only 99-seat state-of the art auditorium provides a stage and audio-visual equipment for seminars, lectures as well as theatrical and musical performances. Our Banqueting & Events Sales Office, Group Check-in Lounge and VIP Lounges are all conveniently located near the function rooms in order to provide convenience and exceptional service. Dhala is a halal certified dining venue, the only one of its kind within a 5 star hotel in Chiang Mai, offering certified halal meal for meetings and special occasions. The spacious 255-square-metre Auditorium, the newest facility of its kind in the city, provides the ideal arena for awards presentations, press conferences, interviews, seminars and forums, as well as product launches, intimate concerts and film previews. State-of-the-art equipment includes hi-tech audio and visual equipment including projectors and screens for multimedia presentation, Internet access in every seat, and large plasma TVs.
Accommodation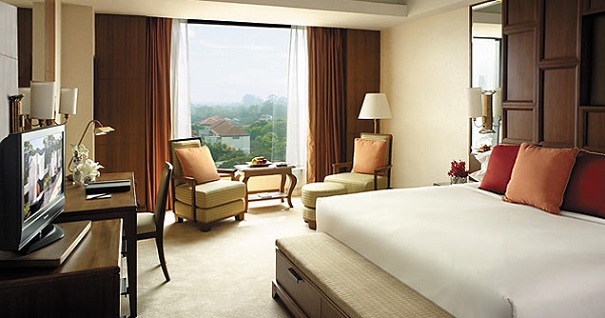 Shangri-La Hotel, Chiang Mai is a five-star luxury hotel, with 281 finely appointed rooms and suites located on Chang Klan Road, which is within easy walking distance of the city's famous Night Bazaar and boutiques. Situated in a lush garden setting, the hotel is just a 10-minute drive from Chiang Mai International Airport. As one of the premier Chiang Mai hotels, guests of Shangri-La Hotel Chiang Mai are able to enjoy the close proximity to fascinating museums, cultural centres, soft-adventure excursions and Chiang Mai's numerous temples, shops and art galleries.
The bedrooms are cosy with plenty of throw pillows, comfortable Shangri-La beds and mood lighting. Premier guest rooms also feature daybeds, which are ideal for quiet moments of relaxation. Special touches such as local celadon tea sets, Thai silk pillows and bed runners and artwork give guest rooms and suites a distinctive Chiang Mai personality and charm. Suites at the Shangri-La Hotel, Chiang Mai offer some of the largest and most luxurious accommodations in the city. Especially popular with celebrities, diplomats and international executives, our suites offer the very highest level of Shangri-La service and elegance.
Our conference has negotiated with The Shangri-La Hotel for the special IJCNLP discounted price (Only 2,500 Baht/Night). For reservation, please visit the following URL: IJCNLP Group Reservation (Do not change code for spacial rate). Your reservation must be done as soon as possible (recommended to done by August 19, 2011) since it's during Loy Kratong Festival period and the number of rooms is limited.
Location
Shangri-La Hotel, Chiang Mai is a five-star luxury hotel, with 281 finely appointed rooms and suites located on Chang Klan Road, which is within easy walking distance of the city's famous Chiang Mai Night Bazaar and further to the relaxing Mae Ping River.
A natural panorama unfolds just outside of Chiang Mai, inviting visitors to trek along rivers to waterfalls, ride elephants along forest trails, visit hidden hill tribe communities and journey up Thailand'ôs highest peak, Doi Inthanon. Guests can also tour ancient mountain temples, escape to the Phu Phing Palace gardens and explore the Chiang Mai Night Safari.
Map
IJCNLP2011 in a larger map
Shangri-La Hotel, Chiang Mai
89/8 Chang Klan Road, A. Muang, Chiang Mai 50100 Thailand