As Australia's largest and premier venue for conferences, exhibitions and special events, the Sydney Convention and Exhibition Centre has played host to some of the world's top companies and international associations.
The Sydney Convention and Exhibition Centre is where the main conference will occur from Monday 17th to Friday 21st July 2006.
Map of Darling Harbour (PDF)
Superbly located on the waterfront in Sydney's most popular visitor precinct, Darling Harbour, the venue is renowned for its flexibility, which enables it to manage events of any size and complexity.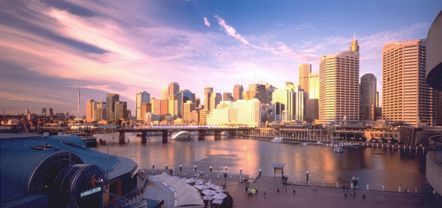 View of Darling Harbour from the Centre (Image courtesy of SCEC Website)
With auditoria, meeting rooms and dining spaces of all sizes, the Centre is perfect for a conference for 200 people or a large dinner for 2,000. Its prime harbourside location, adjacent to the city's central business district, means the Centre's guests can enjoy superb views over Darling Harbour and the city skyline as well as world class facilities.
The Centre prides itself on its excellent service and attention to detail, attributes which are reflected every day in many ways - from the professionalism of its event managers to the skill of its in-house audio visual team and the delicious offerings of its chefs.
More than 600 events are held each year at the Centre, which features 30 meeting rooms and 30,000 square metres of exhibition space.
In 2004 it hosted a number of major international association and corporate events, including the 2,000-delegate Prudential Japan Incentive Meeting in May, the 1,500-delegate World Energy Congress in September and the 3,500-delegate inaugural McDonald's Worldwide Managers Conference in November.
The Centre enjoyed a great start to 2005 when it hosted a massive 13,250-delegate incentive meeting from Asia, the largest event ever to come to the venue. Other major meetings scheduled for 2005 include the 4,000-delegate 11th World Congress on Pain in August and the 5,000-delegate XVIII World Congress of Neurology 2005 in November.
In addition to conventions and meetings, the Centre hosts more than 90 major trade and public exhibitions each year, including the Australian International Motor Show, attracting nearly 300,000 visitors, and the Sydney International Boat Show.
The SCEC Website also has plenty of information about the Convention Centre, the surrounding Darling Harbour, local hotels, how to get there by car, monorail, bus, train, ferry and foot - and parking charges at the Convention Centre for day visitors.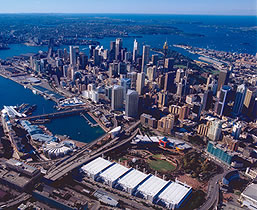 Aerial view of Darling Harbour and Sydney CBD
(Image courtesy of SCEC Website)